Executive Chef Luis Morales's "Blind Date" with the Sunset Marquis
Tell us again about how and when you first got acquainted with the Sunset Marquis.
It was the summer of 2013 when the Sunset Marquis and I basically had a blind date! All I knew was that I was going to L.A. for the first time to consult and that I was staying at a famous hotel. I knew someone was picking me up at the airport, but I didn't expect a chauffeur with my name on a poster and limo waiting… so Hollywood! I remember the mystery building up as we were driving up this residential street to a tucked away building. This wasn't a main street with lots of lights and fanfare – was I being taken to the right place? The staff that greeted me were so friendly and down-to-earth I immediately felt comfortable. I was asked if they could help me find my room, which I thought was funny, right – don't I just take the elevator up and follow the signs? Oh no, little did I know there was this big oasis beyond the main building, with villas, the restaurant, spa, another pool, and a lush maze of gardens! What a gorgeous surprise, best blind date ever!
We know you love your hometown of Boston so what convinced you to join the West Coast? And specifically, the Sunset Marquis in West Hollywood?
Haha, certain things were very appealing to me, the diverse food, the weather, the produce… but honestly it was about a girl! Being offered and accepting a position at the Sunset Marquis Hotel was really the icing on the cake. You can't deny the energy that exudes from this hotel. The property itself provides a great venue for a chef. The entrepreneurial spirit and support of the ownership and General Manager Rod Gruendyke is really hard to beat. It's just a very creative and special place that I wanted to be a part of.
Over the past couple years, you've developed your own personal recognition here at the hotel. You're a mini-celebrity, dare we say. People come up to you at the restaurant and know your name, say hello, and tell you how much they love your cooking. What's that like? Does it affect the dishes you create?
It's really nice to hear, and it makes me proud of the team, and I usually run and tell them right away. It does affect the way we create and perform – positive reinforcement can be a great motivator. Plus the added connection to our guests makes that much more special.
Cavatina's Famously Ever-evolving Menu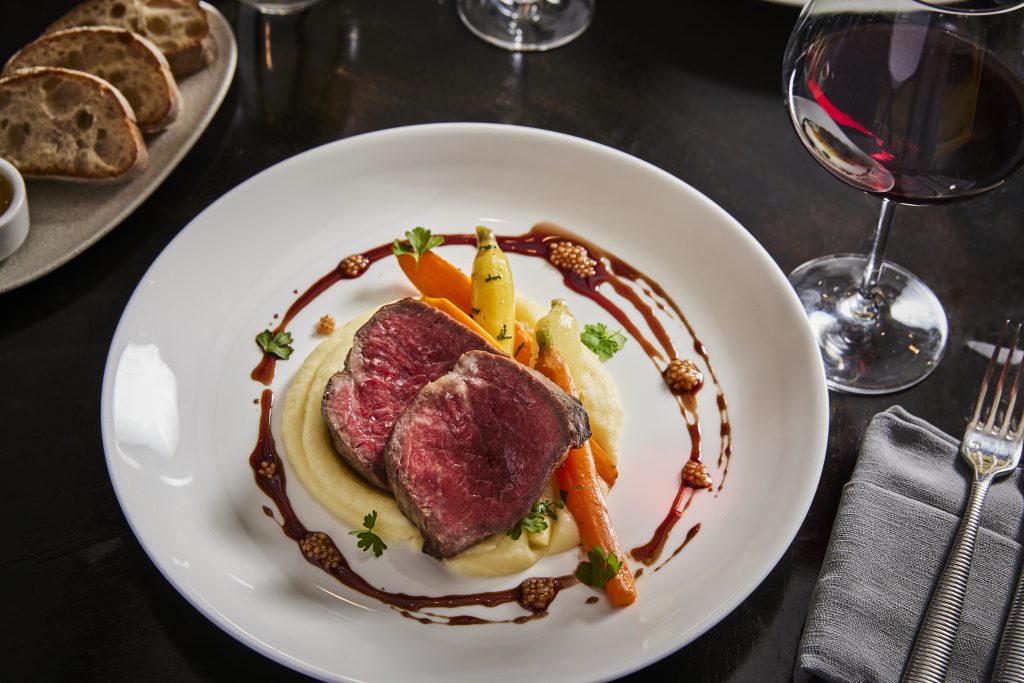 Cavatina's menus are always changing, keeping guests on the edge of their dinner seats for what is new each week, month, and season. What summer dishes are you particularly excited about right now?
Peaches, nectarines, and plums might be my favorite family of fruit. We are doing a savory Peach Salad with Sungold tomatoes, whipped goat cheese, and pistachios that is perfectly simple, sweet, tart, creamy, crunchy, and dressed with a honey thyme vinaigrette. Everything summer is coming around right now, and to me it's all about simple, light, and healthy preparations bursting with flavor.
Although in Los Angeles it is warm enough to be poolside all year, summer is, of course, peak pool time. What went into crafting your poolside menus to ensure the ultimate guest experience?
Easy to eat, lots of fun, and refreshing are the goals!
What is your favorite dish to cook? What dish receives the most "compliments to the Chef"?
I could close my eyes, smile from my heart and soul, and think about making, cooking, and eating pasta. However, believe it or not, the chicken entree and its seasonal variations get the most praise for its crispy skin, seasoning, and juiciness.
In your opinion, what sets Cavatina apart from other restaurants in West Hollywood and in Los Angeles?
The style of food at Cavatina can be eclectic with some comforting dishes involved and great service in a unique and beautiful setting. Plus, there aren't too many places in L.A. that make you feel like you're in a lush tropical garden and not at all in a city.
The Sunset Marquis is many guests' "home away from home," and Cavatina plays a big part in that. Our regulars return to the restaurant again and again over the years hoping to dine on some of our infamous dishes, such as the Togarashi Potato Chips or the Ahi Tuna Poke. How do you set these "classics" apart?
We could have an enormous menu with requested classics that never change, but there are also many people that want constant change. We're very careful about what we take on and off the menu, and there are a couple of things that won't go away – but they may take a vacation. Special exceptions, accommodations, and requests are made, when possible, for those who consider us their home away from home, spend a lot of time here, and we consider family.
Speaking of classics, you recently changed one of ours, the Marquis Burger, and added the new Marquis Veggie Burger and Sunset Wagyu Cheeseburger to the menu. How much do people love these new burgers?
People love the new Wagyu Burger just as much as the original, and it's a little more versatile, modification-wise. The Veggie Burger patty and condiments change seasonally. The current one is a throwback to the old Marquis Burger so you can switch out the patty if you want to reminisce.
Renovations
Cavatina recently underwent some spectacular renovations that opened up the floor plan and turned the restaurant's interior into a cozy lounge. What changes were you most excited about before the renovations started?
A larger bar opens up the possibility for more people to work behind the bar and an expanded cocktail menu and service. Mixology has been a hobby of mine for a while, and I was excited to have a great bar team to collaborate with on flavor ideas, pair a bar menu with, and enjoy the space to do it in.
Cavatina's stunning indoor-outdoor layout is more than just a restaurant and functions as a stellar music venue and event space. The latest renovations have brought this multi-functionally front and center. What has been your favorite use of the new restaurant space so far?
We had a group of guitarists with some serious chops playing together one night, and you don't get to see something like that very often. The restaurant being that close in a small intimate venue… awesome perk of my job.
As Executive Chef, what feedback do you get from guests about the new space?
People coming back after being away for a couple years due to the pandemic are so happy. The space draws in people who want a more casual experience that provides a much larger lounge and bar area.
The Space & Events
Cavatina services a wide range of Hollywood events, both on property and off, and your cooking gets creative in order to best cater to these events' needs and styles. What event offering has been the most satisfying and fun for you to design?
In general, it's easier to impress with a high priced, high quality protein, but that excludes a growing group of people whose diet is plant-based. For recent events, my goal has been to create a dish with all natural ingredients and no chemical or molecular manipulation that will satisfy all guests. The completely vegan, meatless meatballs with a spicy tomato ragu last go-round were very well-received.
Recently, what has been your favorite off-property event in which Cavatina and the Food & Beverage team have participated?
The CA Winemasters's Cystic Fibrosis Foundation event at Warner Bros. Studios. They put on a great event for a good cause.
Cavatina's Future
Has the Sunset Marquis's history affected your work as Executive Chef?
Absolutely! I've learned to broaden my focus and skill set as a hotel chef vs. a restaurant chef, and I take into consideration a group of creative and influential people that have been visiting this hotel longer than I've been alive.
In 2023, our historic Los Angeles Hotel, the Sunset Marquis, will celebrate its 60th anniversary. Are you excited for Cavatina's participation in the anniversary? Do you have any dining ideas already in mind?
Oh yeah, I was here for the 50th and had an amazing time. We're planning to top that event, but I'm into surprises so you're going to have to wait and come to the party!