You dreamed about booking your trip to West Hollywood. You imagined all the awesome things you could do in WeHo (as insiders fondly call our city). You booked your trip. You traveled. You even checked into the Sunset Marquis. But hold on a minute. Do you have concrete plans that make the most of our City of West Hollywood, every moment of every day? Or instead, do you hear the B.B. King lyrics, "From Hollywood and Vine, to the Sunset Strip, there's so much going on, you can lose your grip," playing in your head right now?
Whether you're traveling last minute or leaving your plans open-ended, we're here to help you explore WeHo and Los Angeles beyond. We know all the spots, and we're going to take you through the interests that can be found in our city – starting with music.
Music
WeHo has a rich history when it comes to late night spots with killer lineups, and the Sunset Strip is home to a lot of that history. The Roxy Theater is only a half-mile from our hotel, has been around for almost 50 years, and has welcomed to its stage everyone from Neil Young to Cheech & Chong, The Temptations to Jerry Lewis, and many more stars. They have performances most nights, and your ears will be thanking you.
From The Roxy Theater, a three-minute walk east – yes, only three minutes! – will take you to another extremely iconic music venue: Whisky a Go Go. Legends such as The Doors, Janis Joplin, and Led Zeppelin have reverberated off the walls there. So it's no surprise that "the Whisky" was the first ever live music venue to be inducted into the Rock and Roll Hall Of Fame.
Are you ready for this? A mere three hundred feet east of the Whisky and you reach the Viper Room. If you're in the mood for a setting that's a little more intimate, the Viper Room is your spot. Styled after the great jazz clubs of the 1920s, the Viper Room has seen a broad array of international superstars from Johnny Cash to John Mayer, Queens of the Stone Age to Bruce Springsteen, and many, many more. The venue is most lively Thursday through Sunday nights, and you're bound to meet some cool people while you're there.
Heading down to Santa Monica Boulevard, the Troubadour is just a 1.3-mile walk from our front awning. The famous club opened in 1957 and is known for helping to launch the careers of some of the most legendary musicians. Tom Waits, Elton John, and James Taylor – to name a few heavy hitters – are among the musicians who played the Troubadour early in their careers.
While we're on the topic of music, let's venture east to the hills of Hollywood and the Hollywood Bowl, which is celebrating its 100-year anniversary this year. The centennial celebration officially started in June, and the lineup this summer is phenomenal. Whether you've never been to the Hollywood Bowl or you are a regular, it's one of those venues and experiences that gets better and better every time you go.
Lastly, another hop, skip, and a jump east, you'll arrive at the Greek Theater. Nestled in Griffith Park a little below the Griffith Observatory, the Greek Theater is both trendy and historic. With the stunning backdrop of Los Angeles greatest park, the Greek Theater hosts musicians of the highest caliber and world renown.
Comedy
If you prefer laughs to lyrics, you're in for another walk east – this time a little over a half-mile from our hotel to the Comedy Store. Founded in 1972, The Comedy Store was the first all stand-up comedy nightclub in the world. With huge name comedians always on the roster, this place guarantees laughs.
Walk another half-mile east from The Comedy Store, and you will arrive at the Laugh Factory, which opened in 1979. USA Today called this club "the #1 comedy club in the country" – meaning, Sunset Boulevard has some competing comedy venues. Only you – our laugh-expert Sunset Marquis Hotel guest – can decide the best place for stand-up on the Strip. So buy tickets to both the Comedy Story and the Laugh Factory, and we'll tell our staff to get ready to hear your re-telling of all the jokes.
Shopping
Between music and comedy, we've got your nights covered. But what about Sunset before sunset? There's more than enough to keep you busy around here, especially if you love to shop.
If you're looking for specific stores, nearby shops, or luxury shopping, we have a fantastic Shopping Guide on our "West Hollywood and Beyond" page. Gems like Book Soup – a bookstore, which claims to be a "Bookseller to the Great & Infamous!"- are on our Shopping Guide and are perfect places to spend extra L.A. time.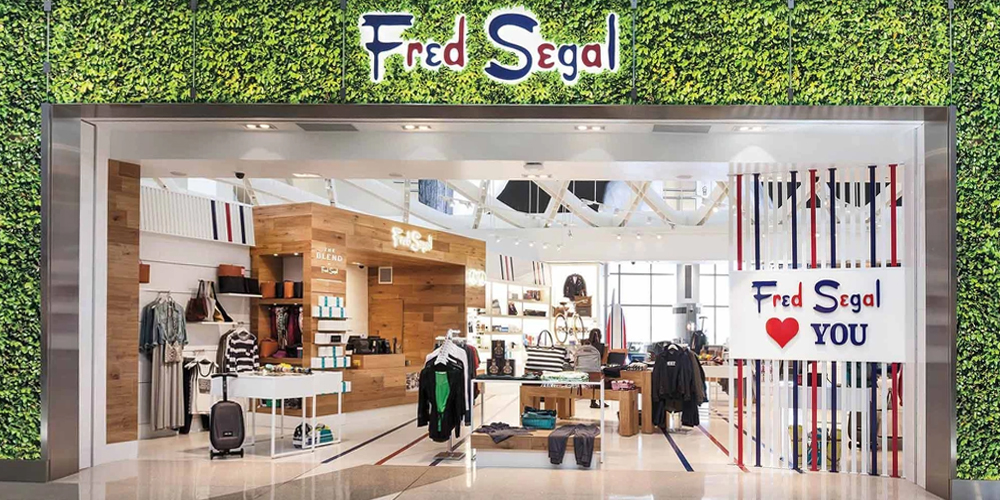 If you're an "outdoorsy" Los Angeleno (or visitor), that might simply mean that you love a great outdoor mall. And The Grove in West Hollywood is one of the most famous of its kind. Boasting some of the best shopping, The Grove's sprawling outdoor setup replaces potential shopping claustrophobia with gorgeous fountains and seasonal outdoor activations. Adjacent to The Grove is WeHo's almost 90-year-old Original Farmers Market. Over a hundred gourmet grocer booths have been keeping shoppers satiated here since 1934.
Yet, sometimes we all just want the comfortable and classic mall experience, and the Beverly Center has you covered. Right outside the West Hollywood city limits and adjacent to Beverly Hills, the Beverly Center's eight-story structure is brimming with the stores you're looking for and the food to fuel your shopping. We recommend a ride on the six-story series of exterior-facing escalators for the scenic portion of your shopping experience.
A short walk up La Cienaga, and you'll find the famous Melrose Place. This intimate shopping destination is for the fashionista, and it might ring a bell because of the eponymous 90s show set in this area. Gorgeous storefronts and architecture make the experience beautiful from start to finish, and the beloved Alfred Coffee will round out your shopping with wonderful caffeine and snacks.
If you're the more indie shopping type, check out the Melrose Trading Post on Sundays. This fabulous swap meet turns the Fairfax High School parking lot into a treasure trove where you can find vintage fashion, artisan goods, exceptional art, one-of-a-kind furniture, and great bites. You'll also feel good being there. Not only because Fairfax High School was the meeting place of the Red Hot Chili Peppers, but also because a portion of admission and vendor fees go to supporting students, funding field trips, teacher programs, theater productions, and more.
Historical
Unbeknownst to some, there is a Historical District of West Hollywood, and our hotel exists right on the edge of it. Some quick googling will have you trotting around WeHo on foot, looking up at the former abodes of Marilyn Monroe and F. Scott Fitzgerald. The City of West Hollywood website and other Historical Districts websites, like that of the West Hollywood Preservation Alliance, will help you dig into our city's past.
While history is the topic, we must mention the recently reopened Greystone Mansion. It's a mile and a half from our front doors, and just a half mile outside of WeHo and into Beverly Hills. Meaning, this vision of Los Angeles history is incredibly walkable from the Sunset Marquis and West Hollywood.
Greystone Mansion has a storied past, sits on 18 acres, and became a Beverly Hills public park in 1971 and a National Historic Landmark in 1976. The 46,054-square foot mansion has everything your inner child's heart could desire: a movie theater, bowling alley, 55 bedrooms, tennis courts, stables, swimming pool, hidden bar, you name it. Not only does the property have a rich real history, but it has also been the set of major film and television shows that give it a rich fictional history too. In addition to being Chilton Preparatory School in Amy Sherman-Palladino's hit series, Gilmore Girls, Greystone Mansion was the backdrop for scenes in The Big Lebowski, Death Becomes Her, Batman and Robin, The Bodyguard, The Witches of Eastwick, The Prestige, X-Men, The Social Network, and many other filmed stories. It's safe to say that Greystone Mansion is "behind" a movie or TV show on everyone's Top 10 list.
Museums
As a historical Hollywood hotel celebrating its 60th anniversary next year, how could we not be fans of museums and the history they represent. A 12-minute Uber from our hotel to Miracle Mile, and you'll hit LACMA – our Los Angeles County Museum of Art. LACMA is the largest museum in the western United States and presents more than 6,000 years of global art objects. The 147,000 piece collection needs days to be fully consumed. You love art? You'll love LACMA.
Right next door and less than a year old is the Academy Museum of Motion Pictures. It's so new that most Los Angelenos are still trying to go see it for the first time. It is the largest museum dedicated to moviemaking and its artists, arts, and sciences. The memorabilia, the artifacts, the theater showings, and so much more make this museum a Los Angeles must.
On the same Miracle Mile block are the La Brea Tar Pits for kids and science buffs alike! Did you know there's a bubbling vat of tar in the middle of Los Angeles? Believe it when you go see it and all of its fossils. 3.5 millions fossils to be specific – and the digging continues!
And across the street is the Petersen Automotive Museum, which is a blast for anyone a) obsessive with film and television and b) car lovers. Those who are both a) and b) will be in heaven.
While there are tons and tons of museums in Los Angeles – and we do encourage people to check them all out! – The Getty is a shockingly stunning location. Both the art on the inside and the eye-popping views looking out at Los Angeles are not to be missed. A quick 20-minute drive west from our hotel, and next thing you know you'll be on a tram up and up to the museum. Renowned for its permanent collections, the museum houses a spectacular display of European, American, and Asian art.
Come See Us
What is it about warmer weather that gets the world excited to travel? Is it that we are ingrained from elementary school to link "summer" and "vacation"? Is it the influx of three-day weekends that starts in late spring? In the sunshine of Southern California, we love any and all influxes of travelers, especially the travelers who are eager to explore Los Angeles's crown jewel, West Hollywood. Whether traveling last minute or finding yourself with free time, we hope these ideas spark a whole new adventure when you're staying here at the Sunset Marquis.