By: Samantha Miller and Audrey Wooster
We created the Sunset Marquis to be a haven for its guests. A legendary Hollywood enclave that our A-listers never had to leave – because it was an escape, a hideaway. A place where Bar 1200's brooding and electric atmosphere; the irresistible, turquoise waters of the pools (plural!) on our 3.5-acre property; and the lip-licking, jaw-dropping bites of Cavatina Restaurant are happily and satisfactorily your entire world. You may ask: when you're already staying in the complete, luxurious world of the Sunset Marquis, why would you leave the property?
In our pristine and total paradise, a Marquis guest lounges in ripped jeans, studded boots, and a perfectly aged leather jacket – the "just rolled out of bed, is it really 2:00 pm?" look. As it turns out, that look is not so easy to come by. Or maybe it's the stunning evening gown that shimmers iridescently as a statuesque hotel guest cascades through our many gardens. We all know that look is not easy to come by. It's our humble opinion that guests leave the hotel to go shopping so that they can come back to our grounds looking their most fabulous.
It's our more quantifiable opinion that our guests leave our grounds to go shopping because West Hollywood, CA, boasts one of the most impressive and fun shopping scenes on the planet. It's not about the Carrie Bradshaw gene. It's not about a single fashion guru or thirst to shop 'til you drop. It's that WeHo's variable, subtly chic, and original collection of brick-and-mortar are ineluctable. They're the best of the best. And if a guest is staying with us, we already know they only want the best.
So it's about looking and feeling the coolest. It's about the shopping being the best. Maybe you yawn and don't believe us, but we have another insider tip. Come closer. Are you ready? You can do all this shopping in a single day. West Hollywood has that many options and is that efficient to get around. A day of different neighborhoods and vastly different styles, all within the West Hollywood city limits.
Like all of our days, this day begins at Sunset Boulevard.
Exiting our hotel on Alta Loma, you are feet away from the iconic Sunset Boulevard. Extremely fashionable stores await at Sunset Plaza. And by "fashionable," we mean on the level of Zadig & Voltaire and H. Lorenzo. There's also Calleen Cordero, our en vogue playground for footwear, handbags, and accessories. And whether you're having a staycation moment – and your real home isn't too far away – or you're down to ship the fruits of your shopping labor, Osklo makes it almost too pleasurable to buy furniture. With home design, interior design, and furniture design, you'll be ready to be featured in Architectural Digest's next issue.
Now, if you head east on Sunset Boulevard, this famous street will take great care of your feet. Kith is where you must go for all of your sneaker needs and beyond. And Kith is pure cool – aka Sunset Marquis approved. Or maybe some leather studded boots and fringe jackets are more your style. We know, you "don't care" about your look, so Boot Star will "care" for you. That name, need we say more?
Now, if you head west on Sunset Boulevard, the boulevard takes care of your need for inspiration. With Viper Room, Whiskey a Go-Go, The Roxy Theatre, and more, Sunset spews both history and current tunes, and it's a music lover's dream to meander this way. Another favorite is Book Soup, a sacred spot for all bibliophiles. They currently have color-coded books sparkling in their windows, and this reading rainbow opens books and minds, as well as LeVar Burton does.
And in case you aren't aware, our hotel is less than a mile from another very famous street: Melrose Avenue. The Melrose. Home to hip new stores, insanely delicious restaurants, arguably the trendiest vintage apparel shopping in L.A., and the eminent Sunday Melrose Trading Post swap meet at Fairfax High School where the high schoolers who would later become the Red Hot Chili Peppers met!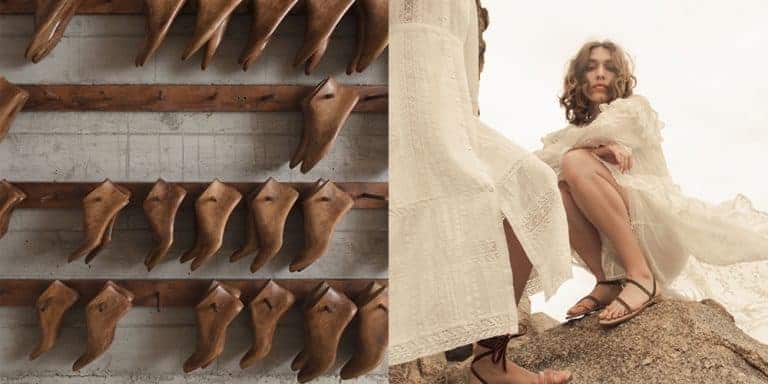 Melrose has infinite shopping opportunities. Clare V. is a Euro-inspired boutique that will transport you to Europe's snow-lined shopping districts around the holidays. Anna Sheffield's has jewelry design by way of sculpture; it's that Palm Springs meets Southwestern vibe. Amanu is where you'll find truly unique sandals, flats, and shoes. Really unique, like, each is handmade, so there are no two that are the same. Plus, they're sustainable too. Welcome to California.
The Great, launched by Emily Current and Merrit Elliott – the denim pair known for "Current/Elliott" – it's a beautiful store to meander through, even if just for the architecture and design. Speaking of design, you won't want to miss Maxfield. They'll have your high-end apparel, fragrances, and accessory fixes. Meaning, you'll find everything you need for everyone in the family while also getting that Getty Museum vibe from their killer architecture. For shopping on Melrose, all we can say is "etc., etc."
West Hollywood also claims The Grove and The Beverly Center, both fantastic places to shop. And at this point, this blog feels like we want you to only ever visit West Hollywood by, sort of, crushing any competing shopping districts in L.A. So be it. Want a stylish, "boxy" look, head to Noodle Stories; Detox Market has safe cosmetics and the detox your skin needs. Tesoro offers endless crafts, gifts, and trinkets, and West Hollywood doesn't forget about the kids' needs either with sleek, fun stores like Eggy that are just for them.
And as resident experts, we have a new page on our website called "Know WeHo" that tells you all about our City of West Hollywood in Los Angeles. It's got sections on Cafes, Restaurants, Bars & Lounges, Clubs, Activities, and introducing the newest section: Shopping. This page is not only our best and most personal recommendations but also highlights spectacular businesses that have smaller internet presences and are thus harder to find.
Mud Australia & Vistoe, with their handmade, beautiful pieces, will make your home truly look like a work of art, and Roseark for their rings, necklaces, and other rocks you want to rock. They are a little off the beaten WeHo shopping path but still worth discovering on North Crescent Heights Blvd.
And when your arms have no more space or strength to carry all of the treasures you've gathered, well, our hotel will be waiting for you. Us, your favorite Cavatina meal, and a "how'd you know I'd love this" cocktail. You may have guessed it, but that's our favorite part of shopping: returning to the Sunset Marquis to kick up our feet at "home."